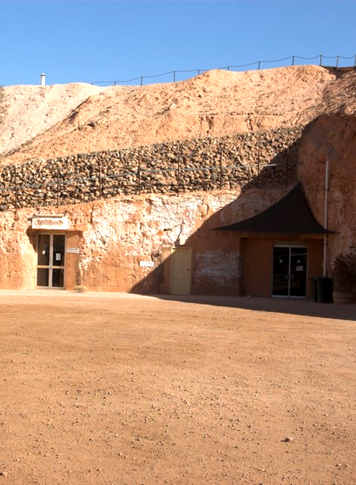 Coober Pedy is in a remote region of Australia that most native Australians will never visit. A 9 hour drive from Adelaide with no stops will see you just make it before sundown. So why would you make that mammoth journey to visit a tiny little dot on the map?
Coober Pedy is the opal centre of Australia. It is even known as the Opal Capital Of The World due to the quantity of Opal that is mined from the area. The town makes sure to capitalize on this popularity with stores selling opals everywhere. Even hotels and motels all have a small gift section where you can buy opal jewellery or opal souvenirs.But opals aren't all that should draw you to Coober Pedy.
Because of the extreme heat in this area of the Australian outback, Coober Pedy has an entire underground community. 'Dugouts' are burrowed into the side of hills or underground into the rock. In these underground hideouts you can escape from the heat and enjoy a constant temperature.
You can find underground hotels, underground motels, underground chapels and even an underground camping ground where you can pitch your tent!
Swimming pools have been installed underground. Stores and museums reside underground with their craggy rock walls reminding you that you're not in just any old store.
During the day the streets are almost bare of people due to the heat. Everyone stays inside where they can. At night, small restaurants overflow with diners waiting to get a table. This is such a contrast that you'll wonder where all the people came from!
You'll see well-dressed tourists lined up next to opal miners just returned from a day out 'noodling' (the term used where opal miners cut round shafts into the ground to try to find new opal deposits.)
When you visit Coober Pedy you must make sure you take one of the local tours that will take you to the mining areas. These areas are generally out of bounds as they are extremely dangerous to wander around on your own. Many stories abound in Australian folklore about people who have never returned from a trip to Coober Pedy because they fell down a mining shaft. Signs are everywhere warning you to watch your step and not walk backwards while taking photographs.
You can take a mail run tour that goes all the way out to the Oodnadatta track, crosses the dingo fence and visits remote cattle stations. Visit the Breakaways and imagine how this land looked thousands of years ago.
The local golf course and cemetery are interesting – if you can imagine a golf course where there's no grass that is!
As you wander through town you might be surprised to see alien spaceships and various equipment that seems out of this world. There's a good reason for that. Coober Pedy has been the site for several movie shoots due to its barren setting and moon-like landscapes. Blockbusters Priscilla Queen of the Desert, Pitch Black and Mad Max Beyond Thunderdome were all shot in parts of Coober Pedy and many of the props were left behind in the town. They make a fun place to take some holiday photos!
Don't be put off by the long drive to reach this fascinating Australian town. Once you've visited you'll be able to tell your friends you went somewhere where most Australians never set foot!