Are you considering going glamping for your next vacation in Victoria, Australia? That's a great idea. You don't have to worry about how to find the best Glamping properties in Victoria. Glampinghub can provide you with numerous unique properties in their Explore Victoria portal. You can find a property with all the adventure and luxury you're looking for.
Just to peak your glamping interest…We have carefully selected the top 3 amazing glamping properties (from the many cabins, yurts, treehouses, safari tents, campervans, tips, etc.) that they have to offer.
Romantic Canvas Bell Tent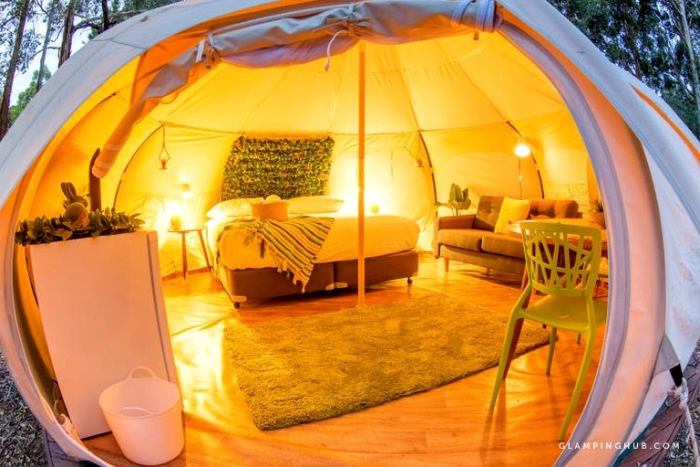 This Romantic canvas Bell Tent is located in a Natural Bush Setting near Melbourne with a capacity to contain two guests and a maximum for 8 guests. It provides you with an ultimately unique glamping experience as you use the unique facilities which are included and the excitement that the natural bush environment creates. The glamping property is kid-friendly, a swimming pool to refresh your body and barbeque for an exotic dish after an adventurous day in the bush. Romantic Canvas Bell Tents has some unique facilities for you to enjoy such as stylish interior décor, a king-sized double bed, bar fridge, kettle, cutleries, cookery, lounge furniture, dining table, bathroom facilities, a 32-inches television, and a Bluetooth speaker.
Secluded Glamping Pod
If you are considering going glamping with your partner or a friend then you should consider renting this secluded glamping pod. This glamping pod is specially designed for couples to have some exciting, fun-filled and romantic time together. The property has the capacity to accommodate 2 guests. You can be free from all forms of distraction and get more intimate with your partner/friend here. This glamping pod for couples is located in Healesville, Victoria. The unique facilities provided in the property are a king-size bed with linens, a living area which has an LCD television, a plush armchair, microwave, bar fridge, toaster, kettle, and a coffeemaker. You can also connect to the internet with free Wi-Fi.
Authentic Yurt with Secluded River Frontage
Authentic Yurt is one of the best glamping properties in Victoria when you are considering an outdoor vacation trip. The yurt has a special feature, a river frontage and a private barbeque, which makes it one of the most desired glamping properties for glampers. The yurt rental is located in King Valley, high country, Victoria, Australia. Other unique facilities in Authentic Yurt are a deluxe bed with linens for two guests, a private bathroom, special organic Australian toiletries, and fluffy towels. You will also have a 12-volts hairdryer that can be plugged in a vehicle cigarette lighter, a fan, a gas heater, and a chiminea tokeep you warm while you sit under the stars.