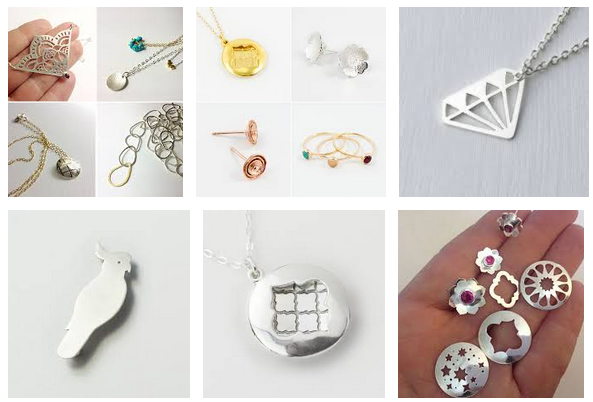 Your passion for all that glitters doesn't have to rival Zsa Zsa Gabor to mean you have an appreciation for jewellery – and you don't need the deep pockets either. Some of the most inspired and gorgeous accoutrements on the planet can be found in Australia's jewellery boutiques.
Here are five of the finest.
1) Simone Walsh
The whimsical and elegant designs of Simone Walsh secure it a definitive spot on my list of favourites. Walsh has been creating these handcrafted designs for two decades, combining gold, silver and gemstones to create alchemic and intricate jewellery. If you want to stand apart from the crowd with equally powerful and delicate pieces, then definitely check out the imaginings of Simone Walsh.
2) Francesca
As the beautiful brainchild of sisters Rachel and Hannah Vasicek, Francesca jewellery boutique is brimful of romantic and fashion-forward pieces that are sure to captivate even the most begrudging lover of bling. Their success lies in their ability to meld each of the sister's unique styles into remarkable, wearable, masterpieces. Their entire collection is stunning, but I particularly recommend their couture collection for brides-to-be.
3) The Horse

For those looking for simpler, more natural-looking accessories, The Horse watches has a spread of immaculately handcrafted watches and accessories that feature the finest leather. Fittingly, designers Scott and Amy put their experience as cobblers to good use,
>creating timeless and durable designs.
4) Elk Accessories

Elk's handmade wood and resin jewellery can completely recreate any look. From bold, chunky necklaces, rings and bracelets to more dainty pendants and embellishments, Elk is the place to go if you are looking for statement pieces.
5) Lord Coconut

What list of the best Australian jewellery boutiques would be complete without something for the guys? Lord Coconut specializes in curating handmade wedding rings for men – though they also have an unbelievable collection of cufflinks, bracelets, necklaces and other accessories. Lord Coconut carries pieces from over 40 of Australia's most renowned jewellery designers, so you'll have no problem finding something that reflects your style and compliments who you are.
Sure, some of these boutiques stray from your usual shopping destinations, and some are only online, but the fact remains that they carry the very best creations of Australia's most phenomenal jewellery designers.